After Ubud, I proceeded to Gili Meno, on of the three tiny islands situated north-west of Lombok island. The crossing with fast boat from Padang Bai took about 1,5 hours. I was dropped at Gili Trawangan and hopped on another boat to Gili Meno.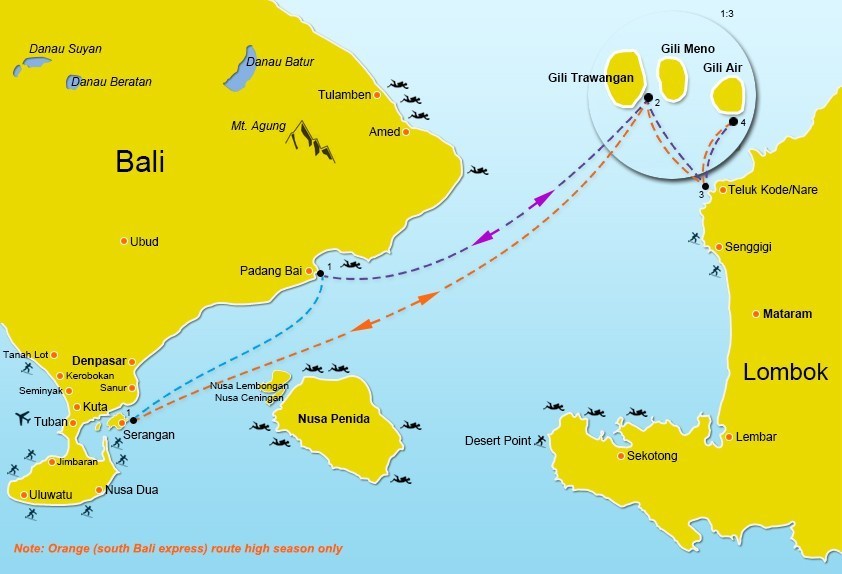 image courtesy of Gilibookings
I spent 4 days at Gili Meno. What I did there was eating, swimming, snorkeling, tanning, walking, taking pics, sleeping and repeat. My husband went diving a couple of times on the many diving spots around Gili Meno. The island life there is so relaxing despite the scorching sun. A note from me: Bear in mind to cover up yourself when venturing out there off the beaches. On the contrary of Bali, locals of Lombok and the Gilis are muslims. Showing them respect is not too much to ask.
This horse cart is called Cidomo. If you want to move around but don't feel like walking, you can take it as there are no motorized vehicles allowed in all three Gilis (Gili means island in local language).
There are a lot of boats sailing back and forth between other Gilis or to Lombok. Some boats carry all logistics ranging from food, drinks, ingredients to stools and tables from the main island. Others transport water too as there is only salt water available on the Gilis. When I was there I needed to adjust myself showering with salty water after swimming, but I got used to it quickly. Consider this as eco tourism.
One day I woke up early to catch the sunrise on the beach in front of my hotel. This was around 6.30 am if I'm not mistaken.
A couple of minutes later. The sun rose rather quickly that morning.

Seafront bungalows of the hotel where I stayed.

The golden hour in a tranquil morning. Such a bliss!
All Gilis are backpacker's paradise. Look at this array of affordable accommodations at Gili Meno. Some luxurious hotels and resorts have been built there also but the feel is still a backpacker island. That is exactly the charm of it, laid back vibe and unpretentious.
I heard of this warung from my Indonesian neighbour in The Netherlands who knows the owner. Warung Ya Ya serves Indonesian food without MSG at friendly price.
Unlike its neighbour Gili Trawangan, the party island, Gili Meno is quiet. This is the only beach club there, Karma beach club. Lie at the bale and enjoy the music and the view.
Or watch local kids having a good time in sea after school with Gili Air, Lombok and Mount Rinjani on the background. What a life! Perhaps for them the sea and the view are so normal but the water is crystal clear, it was like swimming in an aquarium. And that is so special for tourists like me.
The other side of all the beauty Gili Meno has to offer, unfortunately the island has been badly littered. As an Indonesian I must shamely admit the awareness of keeping the places tidy and not littering is so low there, like elsewhere in the country. It is such a shame to see rubbish there, a lot of it. There are volunteers who pick up the trash. This is a good initiative to support.
Malia's Beach in Gili Meno where I stayed is located on the east side of the island. To see the sunset I walked to the other side but alas I couldn't catch it properly. It was covered by Gili Trawangan. This was the dawn there.
And this one was taken nearby the mosque in the center of the island where the locals live.

I write this in one gloomy November day and the memory brings a smile on my face. Gili Meno was so relaxing and memorable. When I was there I turned 44, that was sure one of the most relaxing birthday celebrations I have ever had, in a hut on a beach with my loved-ones under the clear sky with countless stars.
This series of Indonesian summer holiday stories continues. Stay tuned!